Stair Treads
Borden Stair Treads are available in Carbon Steel, Aluminum and Stainless Steel alloys.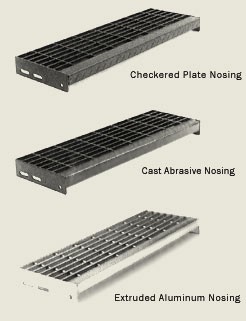 They can be made to suit any stair or tread opening and are furnished complete with pre-punched and slotted End Plates ready to bolt to the stringers (see details below).
Carbon Steel Treads are available using Pressure Locked, Welded or Riveted Gratings and can be supplied with Checkered Plate, Cast Abrasive or 1/4" Bar nosing options.
Aluminum Stair Treads are available in Pressure Locked, Squeeze Locked (Standard Bar or I Bar) or Riveted Gratings and can be supplied with either Extruded Aluminum or Cast Abrasive nosings.
Stainless Steel Treads are available in either Pressure Locked or Welded Gratings with 1/4" (6mm) Bar nosings. They are normally supplied in Mill Finish only.
Notes:
Refer to the tables below for maximum recommended Tread lengths.



All Cast Abrasive Nosings are in Aluminum Alloy.
3/8" (10mm) bolts for mounting standard Treads to stringers are supplied "by others."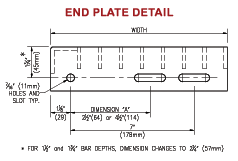 WHEN SPECIFYING OR ORDERING, DESIGNATE:
Type of grating (letter) and size (number)
Style of nosing
Width and Length of Stair Tread
Serrated Surface (if required)
Finish - painted or galvanized - aluminum or stainless treads are normally supplied mill finish
Made by Borden Metal Products (Canada) Ltd.